John Doktorski
On August of 2007, John was diagnosed with level four brain cancer. John went home to be with His Lord on Saturday, January 19th, 2008
"Blessed are those who wash their robes, So that they may have the right to the tree of life, And may enter by the gates into the city. "
-Revelation 22:14
This web page is to honor the Lord Jesus Christ by remembering God's servant, John.
---
From the Dodge Foundation:
We were blessed to have John as one of our 2004 Dodge Foundation Teacher Fellows. John was an inspiration to us at the foundation, his peers, and his students. When I met John I was new to Dodge and to the teacher fellowship program and when I read of what John had accomplished during his fellowship my jaw dropped. I was amazed that one of our fellows climbed Mt. Kilimanjaro, an undeniable physical and emotional feat. We use him and his adventure as an example to our prospective fellows all the time...so his memory lives on and what he has done continues to inspire all of us.
In one of his reports to us regarding his fellowship experience John used the following quote. It resonated with me when I first read it and does once again as I think of John's accomplishments. 
You cannot stay on the summit forever.  You have to come down – so why bother climbing in the first place? Simply this: What is above knows what is below.  But, what is below does not know what is above.  One climbs, one sees, one descends.  One sees no longer, but, one has seen.
There is an art of conducting oneself in the lower regions, by the memory of what one saw higher up.  When one is not able to see any longer, at least one can still know.
- Rene Daumal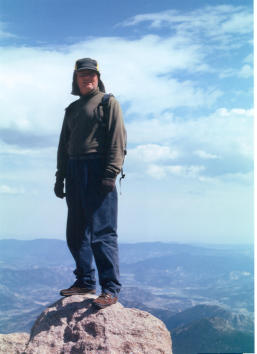 "Because He has loved Me, Therefore I will deliver Him; I will set him securely on high, Because he has known My Name."
- Psalm 91:14
When John was diagnosed with Cancer, I commented to a friend, "John has already had to deal with cancer in his life once before, I wonder why God wants John to learn the lesson of suffering a second time."   To which my friend commented, "God does not want John to learn the lesson of suffering a second time, God wants John to shine for Christ a second time."   Well said!  I stand corrected.
- Pastor Brad Winship
"For momentary, light affliction is producing for us  an eternal weight of glory far beyond all comparison"
The Bible - 2 Corinthians 4:16
Sr. Ellen Kelly
Executive Director
Collier Services
I always will remember John as a teacher who wanted to open new horizons for his students.  He started a biking club here at Collier and I will never forget the touching scene of John holding the seat of a bike as a "tough" teenager learned to ride for the first time.  The joy and pride on this young person's face was priceless as John ran behind keeping the bike steady until he could let go and let her ride on her own.  It may seem to be a simple thing, but it was an act of love as he once again found a way to raise the self esteem of a teen that needed encouragement.  John was such a good and generous person with time and talents.
I know that John had deep faith and that all that he did was out of his experience of being loved by God and wanting to share that with others. We are very grateful that we had the privilege of having John as our colleague and friend.  We miss John, but our faith consoles us and we know that we will meet again when every tear will be wiped away.
May Jesus the Good Shepherd be near to all those John loved especially his wife and family.
John and I went to a stream looking for sharks teeth.  This was after one of John's last operations and he could walk a short distance with help, then sit by the stream.  I waded in the stream and found a shark's tooth.
We talked about the simple beauty of the cutaway banks of the stream.  It showed layers of copper colored dirt and darker brown dirt.  We spoke of the cool way the branches curved and how even this quiet place was as beautiful in some ways as the greatest places he had seen.
- John Bichart
The Bond of Love
Since John's passing I have learned so much.  I always knew I loved John, but it never occurred to me how strong that bond of love is.  I could always say "hey I love you my friend" to my Christian brothers and sisters, as a passing thought, but I never really thought about  what saying that really meant.  Now I know. I have been sitting here living my daily life since John left us. "Life goes on" they say after someone's passing, yes it does, but you never really realize the space someone leaves behind when they do leave us.  I know where John is, and how he is probably saying "hey, Bruno's finally figuring it out!" and smiling and laughing with that goofy laugh he has, and now I understand how strong love really is.       
Love is sorting through your old photos and slides, looking for some pictures that might be needed at a viewing of your best friend and feeling that unbelievable warmth and power welling up inside you when you see those photos and think of the memories behind them.  Love is coming home to a dark condo at night, all alone and not being able to pick up  the cell phone and say "hey John how was work today?" , and feeling that hole he has left behind.  Love is opening the trunk of your car and finding the your daredevil fishing lure snagged on the carpet in your trunk and remembering how I once said to John while we were fishing at Scudders Falls on the Delaware and saying to him "You'll never catch anything with that one" and he did.
Love is a bond that can not be broken.  I believe it is a gift to us from our Lord to show us what He has in store for us up in heaven.  If I ever needed reassurance as to my faith in Christ and what is in store for all of us up in heaven, John's passing delivered that reassurance to me.  For that I thank you my Lord, and for that I thank you my friend John.
Dear Mrs. Doktorski,
I was one of your husband's students.  I am writing this to tell  you  how much your husband meant to all his students.  He was a wonderful man.  He dideverything in his power to help us get by.  I am only one of the lives he touched.   
For example, he gave me a safe feeling everyday in his class.  He cared so much about having a place to feel good.  He helped me more then I think he knows.  He protected me from feeling hated and hating others.  When I found out I almost busted out in tears.  And many at Collier feltthe same. 
He will be missed and our prayers will be with you always.  May he be happy and out of pain.  He surely will be missed and will  never be forgotten.
- Yours truly, SH
For being a fine and caring man I thank you!  For making a difference in my daughters life I admire you and for caring for those children in your classes as you always did! I honor you!
- Thank you.  The H Family
Mr. D. helped me get over my fear of heights.  He also helped me climb the rock wall and ropes course! I'll never regret conquering my fears.  I owe it all to Mr. D! He was the best!
- DH
Mr. Doktorski is still the best Gym teacher I've ever had.  All of my other gym teachers hated me and never gave me a chance.  And when I came to Collier, Mr. D. gave me all the respect I wanted and needed.  I was new and he gave me all the respect and a REAL chance.
- MK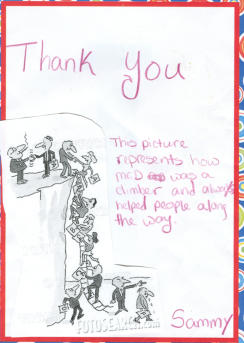 Letters from students from the Midland School in North Branch  where John worked for about 4 years.
"I remember Mr. D. coached me at basketball. I thought he was fair and sweet. I'm sorry to hear that he passed. Take care." S.L..
"Sorry to hear about Mr. D. He used to be my soccer coach. I have good memories." J.R..
"I'm going to miss Mr. D. I'm going to miss him in gym class. I liked having him as a gym teacher. I liked playing pillow polo." J.
"I'm sorry to hear that Mr. Doktorski died. Remember all the good time you had." N.
I remember Mr. D teaching me wrestling, swimming, and the jump-a-thon. We will miss him. We all say God Bless Mr. D's family." T.C.
A WORD TO THE STUDENTS AT COLLIER HIGH SCHOOL FROM MR. DOKTORSKI'S WIFE (BETSIE)
Mr. Doktorski always loved to be a part of good, wholesome adventures. His love of life and his appreciation for nature provided him many opportunities to explore new things and to reach out beyond his comfort zone. It was sometimes a little scarey for him. He was afraid of heights, but as a young adult he made the decision to rise above that fear and learn to do technical climbing.
I'm sure he shared many of those adventures with you as he was encouraging you to utilize the climbing wall at the school. He bicycle toured western Europe with his father and bicycled to Nova Scotia. He loved the thrill of roller coaster rides and taking his nieces and nephew and grandson on fishing trips. His love for being physically fit was an asset for him and helped him survive bone cancer many years ago. His physical fitness was instrumental in helping him to hang on for as long as he did with this brain tumor.  He was always ready to share his experiences with others and to help them develop and improve their physical fitness through fun adventures. He has taken some of his students on hiking trips, helped them develop motor skills and taught them to swim.
However, there was one experience he had when he was in his early twenties that has impacted him for eternity. That was when he committed his life to hisLord and Savior Jesus Christ. Not only was he continually developing his physical fitness, but he was now developing his spiritual fitness. This has given him more satisfaction than anything life could never offer. No matter what life has thrown at him, his trust and faith in God has strengthened and sustained him. It was God who gave him the peace and relaxation to endure being awake during his brain surgery and to face the rough road that was ahead. As is quoted in the Holy Bible in Philippians 1:21 "For me to live is Christ, to die is gain."  The one and same God who has saved and sustained Mr. Doktorski loves and cares for each one of you. Life isn't always pleasant, but with God going before us and often times carrying us, we can get through anything.
"I have fought the good fight, I have finished the race, I have kept the faith; in the future there is laid up for me the crown of righteousness, which the Lord, the righteous judge, will award to me on that day; and not only to me, but also to all who have loved His appearing."
- 2Timothy 4:7-8
God bless and keep each one of you.
From Gordon, John's Son-in-law
Let's turn our memories back to when we where three years old and see what we remember some may remember some things and other maybe nothing at all. But the memories will always be there when Grandparents, Parents, Uncles and Aunts share those memories on with us.  I know of one little guy that loved his Granddaddy so much. He may not totally understand what is going on, but we know he knew things were different or something was going on during the time (Granddaddy was sick, and even during the time of the celebration of (Granddaddy's life).  We explained to him that Granddaddy was in heaven, although he didn't understand what we meant, but we know someday he will.
One thing I do know when (John would come to visit in Kentucky he would go outside and pull Nathanael around in the back yard in his John Deere Gator, He taught Nathanael to tie a rope around the front of the Gator and then pull him around the yard for hours, Nathanael loved that so much and didn't want him to stop (John would come and tell me he has take a rest now and for me to take over), He would just have so much fun with Granddaddy.  It was just about a month ago I had the boys out in the back yard playing, I noticed Nathanael pulling Isaac(18months old) around like John did with Nathanael.
John will be missed so much, but I want to do what I can do, to live out the dreams that John had wanted to do with the Grandkids, like fishing, hiking and bicycling. I know I can't fill John's role but I can fill my role as a father and a Uncle and share to them on what he enjoyed doing and what inspired him in life, especially knowing his lord and savior Jesus Christ.
John we Love You
Gordon, Nathanael & Isaac
A Word from John & Betsie's daughter Ardin - - January 23rd 2008
John's celebration of life!
I have a plaque hanging on my wall at home that reads something like this 'God brings people into our lives to help prepare us for a future that only He can see.'  There is no doubt about the fact that God brought John into our lives for a reason.  A reason that we may not even know yet.  I had no clue back in 1986 when John (or Mr. D as we called him then) became our new gym teacher that he would also become my Dad. We have heard many nice things about John and his love of life, his love of God, and his love for his family.  But John was a man of action.  He didn't just sit around talking about what should be done - he did it.  I am confident that John would not want us to just sit around talking about him and all his attributes and qualities.  John would want us to take what we've learned through him and put it into action.
John was a passionate adventuresome man, and while he was passionate about climbing and bicycling and fitness his greatest passion and his AWESOMEST adventure was his walk with the Lord Jesus Christ.  He was passionate about people and the state of their souls.  There have been many people that have told me that they would not have a personal saving relationship with Jesus Christ if it had not been for John sharing the gospel with them.  What a testimony!...and what a challenge to us as Christians.
There is one thing we are all guaranteed--and that is eternity.  All of us will spend an eternity somewhere-either in heaven or hell.  John's greatest desire is to see those in his sphere of influence and beyond spend an eternity in heaven with the Lord Jesus Christ.  Smile as that.
God gave us a gift when he gave us John and I think it is ever so fitting that John's name means 'God's gift'.  When God gives us a gift does he expect us to hold onto it and never let go?  NO, God gives us a gift, expects us to share it, and will often times ask us to let go of his gift for a greater purpose to be fulfilled.  Today we are letting go of our gift, and I am confident that God has a greater purpose that WILL BE fulfilled.
Jeremiah 29:12-13 "Then you will call upon Me and go and  pray to Me and I will listen to you.  And you will seek me and find me when you search for me with all your heart." 
Proverbs 3:5-6  "Trust in the Lord with all your heart, do not lean on your own understanding; In all your ways acknowledge Him and He shall direct your paths."
God works all things together for good to them that love the Lord.
My challenge for us today -- What are we going to do?  Are we going to sit around and just talk and remember or are we going to take action and live.
Today for me is NOT good-bye - it is thank you, it is I love you and most importantly it is I WILL SEE YOU LATER!!
- Arden Turner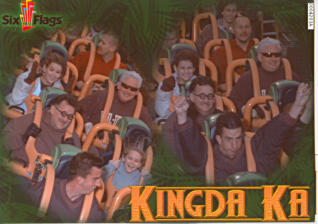 John with Ray and his two girls riding the faster roller coaster in the world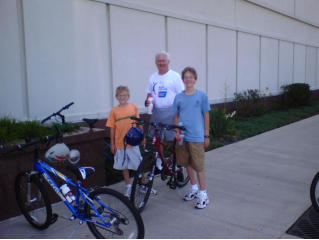 John with his friends Miles and Kyle on a twenty mile bike hike to the Freehold Mall
"Off Belay"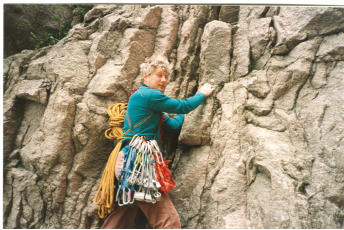 Once a mountain climber is anchored with steel spikes to the rock face, he will cry "off belay" meaning that his partner, who is tied to him, can now safely climb pass him. 
C. Everett Koop's son died in a mountain climbing accident on Mount Cannon in New Hampshire.   The son's final words were "off belay."    In his book Sometimes Mountains Move, Dr. Koop writes, "'Off Belay' means to us that, under the circumstances of our son's life and his death, that he was secure, fastened to the Rock, and was then in no need of any other aid." 
The Christian is secure to the rock, Christ Himself.   Neither death nor life will separate us from the love of God, which is in Christ Jesus our Lord  (Romans 8:38-39).   May all come to understand these things.   
"I love You, O Lord, my strength.  The Lord is my rock and my fortress and my deliverer, My God, my rock, in whom I take refuge; My shield and the horn of my salvation, my stronghold .  . .  For who is God, but the Lord? And who is a rock, except our God." 
"He only is my rock and my salvation, My stronghold; I shall not be shaken.  On God my salvation and my glory rest; The rock of my strength, my refuge is in God."
- Psalm 18:1-2,31; 62:6-7
Devotional thoughts
"The righteous man perishes, and no man takes it to heart; And devout men are taken away, while no one understands.  For the righteous man is taken away from evil,  He enters into peace; They rest in their beds, Each one who walked in his upright way.   But come here, you sons of a sorceress, Offspring of an adulterer and a prostitute . . . " (Isaiah 57:1-3)
At our Sunday Evening Bible Study, Mike G. brought up Isaiah 57 in our discussion of John's passing.   The text addresses the apparent, untimely death of righteous people.
Edward Young in his commentary on Isaiah 57 writes, "This is not ordinary natural death, but rather sudden death, a dying before one's time.  Such death are not understood by the godless, for they do not realize that God in His goodness often takes righteous men to Himself to deliver them from some impending catastrophe.  The evil mentioned is general; and from before it the righteous are gathered."
But notice that Isaiah points out a different end for the wicked who remain.
Thanks Mike for sharing this passage.  The Word is our delight!
A Tribute to John from Bruno Hamann
I believe I met John sometime in the spring of 1980 at Trenton State College, now known as the College of New Jersey.  Dates do not matter, but it was definitely one of the most important days of my life.  It was the day I met my best friend.  It was somewhere in one of the cafeterias at the college, and a Christian friend of mine said "hey Bruno, you gotta meet this guy John, he rides bicycles too."  I was into bicycling and needed someone to ride with and so we clicked immediately. As God's plan would have it we became best of friends.  We became involved with the Campus Ministry of Chi - Alpha.  I had just recently accepted Christ into my life, I was in college, I met a great guy I could hang out with, and all was well.     
Soon John and I started riding bicycles together and I introduced John to technical rock climbing.  John had always been a mountaineer, having climbed mountains in Colorado with his father and brother and naturally he was interested in learning about rock climbing.  We would go on weekends to a place called Ralph Stover State Park, aka High Rocks Park, in Pa., a nice park along the banks of the Delaware River.  As we climbed together at Stover, our friendship grew and we began climbing in other areas.  Soon we were climbing the "big" cliffs of the Shawanagunks, or the "Gunks," as they are known as and for years John and I and several friends would climb there and other places in the North East, including Franconia Notch, in NH.     
Franconia Notch is known for a mountain on it's west side called Cannon Mountain.  It is also the residence of the "Old Man of the Mountains," a rock outcropping New Hampshire has on it's state quarter.The outcropping no longer exists, having fallen down several years ago, due to erosion and ice beating down on it over the years.  The State of New Hampshire had tried over the years to save it with cables and caulk, but to no avail, the Old Man fell down.  "The Old Man of the Mountains" has been represented on several U.S. Postal stamps also.     
Many years ago John and I and Betsie his wife and the girls, Arden, Lynn, and Amy went on a camping trip up to Franconia Notch, the family taking John's father's camper and I my VW Rabbit.  On that trip John and I took a day to ourselves and climbed the Whitney-Gilman Ridge on Cannon Mountain, which is on the southern side of the cliff , opposite the Old Man.  It is a 600 - 700 foot rib of hard granite.  The reason it is there is because it is hard rock and hasn't been eroded yet.  If you look at a picture of the cliff it stands out.       
John and I started out on the climb, the weather was so-so, but we took a calculated risk and decided to go.  We both knew what we were getting into and what could happen if we made a mistake, but we didn't talk about it much because we had faith.  We said a prayer at the base of the climb.  John asked me if he could lead the first pitch, he had never really led such a serious pitch before and I told him if you think you can do it go ahead.  So John led the first pitch of the climb and as the morning went on we kept climbing, leapfrogging pitch after pitch after pitch.       
About  six hundred feet up the Whitney - Gilman Ridge there is a pitch called the pipe pitch.  It is a section of the climb where the hardest part is, hardest as in strength wise it is tough, it is almost near the top of the climb, it is the crux, it is exposed, you need to take a step over to a small foothold and there are six hundred feet of air between you and the deck below.  There are nice solid holds all the way, no flaky crumbling holds, in other words, it is just you and your skill to get over this section.  Also, right below you, about ten feet underneath you someone had actually placed a water pipe in a crack that was solid steel in the crack that could in no way possibly come out.  So here you are anchored to this pipe by a piece of rope being held by your best friend.  Everything was A-ok, it was just a matter of doing it, completing the climb, and taking a nice hike through the woods back to the camper.  John did not want to lead that pitch, so I led it, John held my rope, I did not fall, I made it to the ledge above, and then a few minutes later John followed me and made the same moves and I held his rope as he did the "move."       
John and I sat on that ledge, knowing we had made it, knowing we had not flirted with danger, but made some responsible decisions and gotten to where we were by faith.  We did it as a team.  We sat on that ledge, we ate some lunch that Betsie had packed for us.  We prayed to the Lord, thanking Him for the view we had, thanking Him for the faith we have in Him, thanking Him for the friendship John and I shared, and thanking Him for the beauty of the World around us.  That was one of the finest moments of my life on this planet, my best friend John and I sitting on that ledge with the Lord right there besides us.       
I could go on, as I sit here thinking about my friend and the good times we've had together, I honestly believe I could write a book about our adventures together.  These are the kind of adventures that only true friends can have.  Memories that I believe I will need to write down so they do not fade away.  John and I were such good friends and had so many laughs that I honestly believe he is part of the reason that God meant for me to walk on this earth.       
One story I must tell is the story of the bridge.  There is a pedestrian bridge that goes over the Delaware River, near Pt. Pleasant, Pa.  It is a cable suspension bridge near where John and I used to climb at Ralph Stover State Park.  John and I would on many occasions jump off this bridge to cool off and for kicks after a hard day of climbing at Stover.  Yes, it is illegal to do this.  John was often concerned that we might be arrested and it wouldn't look good on his resume when he went out looking for teaching jobs. Well one time maybe 10 years ago John and I were off and it was a hot summer day so we decided to go do a "jump."  There were a few people on the bridge, they kind of knew what we were going to do and I'd like to say the energy level on the bridge that day was high. 
People were laughing and kind of helping us out to warn us if the ranger was nearby.  I took off my shoes and climbed over the railing and jumped, it's about a 35 foot fall into the water.  John did the same, he climbed over the railing, and to make the fall shorter he let himself hang off the bottom I-Beam of the bridge, just hanging from his finger tips.  He couldn't do it, he chickened out and couldn't let go, but at the same time he was laughing hysterically, people on the bridge were laughing hysterically, I was in the water being swept away by the current laughing hysterically, and finally, because he didn't have the strength to pull himself up anymore, he let go.  Needless to say all worked out well no one was hurt, but here we were, swimming, John and I, trying to get back to the bank of the river laughing uncontrollably, the people on the bridge were laughing, and I was starting to suck water down my lungs because I was laughing so hard.  So I yelled to John " Ranger Rick is going to find two bodies on the banks of the Delaware somewhere down near Trenton."  "What's he going to write on the death certificates?"  "Drowning by laughter?"  John blew up laughing too, and I must say we did have a very difficult time getting back to the river bank.  Laughter like that only comes with friendship like John and I had.   
John, you and I will be friends into eternity…
Bruno
Ray Bock's Words at John's Memorial Service
My thoughts about John - Ray Bock, Principal of Collier High School
I think we all knew that this day was coming.  There was really no cure for the aggressive cancer and brain tumor that John had.  I think it was only because it was John that perhaps we thought he wouldn't die.  Those of us who were privileged enough to know him, also knew that he was a man of great faith and a man who believed in miracles.  And while the possibility of a miracle seems not very likely or impossible to most of us, John seemed to expect one.  After all he had beaten cancer before. 
From the moment he pulled the school administrators all together one day in late August, and explained the details as he understood them of his aggressive brain cancer and assured us that everything would be OK, we marveled at his courage, determination and his faith.  He asked us to pray for him but especially for Betsy.  His faith was amazing.  And his faith in our prayers was humbling to those who prayed for him.  In my house we prayed for John every night.  When I let john know that, you just knew how important our prayers were to him and what a large part his faith played in his life.  And maybe that's why we thought just maybe this day wouldn't come.   
In the last few days, thinking about John, my take on miracles has shifted a bit.  I think that as John would say it, God's will was done. God let us share for a few years in the miracle that John Doktorski was to us at Collier.
When we hired John 4 years ago, John became the senior citizen of our PE department at the ripe old age of about 45.  We have a great young PE department, anchored by Jeff and Lara and always added to by a combination of  other staff.  The core of the PE department led the way and John became a solid pillar in that core.  They support and take good care of each other.  When John arrived as the newest member of the group, he watched and listened.  He always asked good questions and he found his place in the department.  John was so appreciative of the support that Lara and Jeff provided for him.  He raved about them in my office.  He was a grateful man who made it a point to let me know how much he appreciated the support of our administration.  He was always thankful.
John connected with the spiritual part of our mission at Collier.  He felt it immediately and I think it added to his feeling of finding a home at Collier.  Our program is sponsored by the Sisters of the Good Shepherd and their mission is alive in our school.  John was a good shepherd to his students.  While many students liked John and his corny humor at times, there will always be those who resist.  John wanted a lot for them, however, they don't always cooperate.  But if a student complained, I always knew I could ask this question.  Do you think Mr. Doktorski wants the best for you?  They could never say "No."  In time, even the most resistant would know that when John pushed them to succeed or offered his advice about a better way to live their lives, he wanted what was best for them and they could see that in Mr. D every day.  In fact, when students complained about John, I knew part of the complaint before I even met with them.  It went something like this.  "Look Mr. Bock, you don't understand, the guy is too nice! That's not right.  I can't stand it!  He's just too nice!"
Once John settled in, it didn't take him very long to begin to think outside the box to see what was possible at Collier.  He started by pushing us towards the construction of our state of the art three sided climbing wall and high ropes course, a task previously thought to be impossible.  John was a passionate climber and he wanted desperately to share that passion with our students.  John=s dream became a reality.  We have one of the most comprehensive, challenging and exciting high ropes and climbing walls around.
In my recollection of what came next it seemed only moments after we got the go ahead on the ropes and climbing wall when John turned to me and said You know, we should start a biking club.  I took a deep breathe, thought about all the reasons why it would be impossible.  "Where are we gonna get the bikes?  What about the insurance?  Where are they going to ride?  Around the campus?  Not down the hill!"  I breathed out, looked at John who was ready to bury me with the passionate thrills of  riding.  John said, "Maybe some of our students don't know how, what a great outlet for them, the local bike path and all of the benefits to our kids," and I said  "Yeah John, why don't we look into it."  Today we have a stable of bikes, some new, some donated, all kept up, a bunch of helmets and a biking club that has been a huge success.
While John sometimes fretted, and sometimes struggled with the challenges he faced in the classroom, weight room or our gym, he never complained.  He always saw the best in our students and I can't say I ever saw him get down.  He so enjoyed the successes of his students - - a student who made progress in the weight room or was starting to gain self esteem by feeling more fit and healthier - - a student who struggled mightily, but climbed the wall or beat his or her best time to the top - - a student experiencing the joys of riding a bike (whether gliding downhill on the front road or fighting gravity to pedal back up)  -- a  student overcoming near paralyzing fear and  taking the leap of faith on our high ropes course.  And in one of our greatest memories of John, watching him run behind holding on and then letting go while a young lady learned to ride a bike at Collier for the very first time in her life.  John loved it all.   
We have other fond memories of John that are dear to us and tell you a little more about this great man.  I had been talking about trying to ride a bike from my house to Collier for nearly 20 years when John came up one summer day, loaned me a bike and rode with me nearly all the way home to make my little dream a reality.  Of course, I came home exhausted and boasting of the huge feat I had accomplished while John turned around rode all the way home and never lost his breathe.  He rode his bike back up to Collier the next day to see how I enjoyed it.  Well, once the bike club was well under way, John was always inviting me to join them.  I had excuses about how much time away from school and all that I had to do, but John persisted and I happily joined them.  The big trip was down the hill, out to the bike path and all the way to Matawan where John treated everyone to a Stewart's root beer.  The memory of seeing John with his kids sitting under an umbrella drinking root beer on a beautiful spring day is one that I will always cherish.  In fact, if you've ever had the pleasure of hearing John's bike riding stories, you'd know that once when he around a senior in high school he pedaled from South River to Nova Scotia with a friend, riding in the day and sleeping under the stars or on bad nights under a tree in the rain. 
Several weeks ago I met John's Dad at the hospital and heard of their trip together biking across Europe after John graduated from college.  I saw John's Dad relive their ride together, father and son, and recognized a twinkle in Dad's eye as he got excited about the story.  I really enjoyed that and thought that I had seen that twinkle in John's eyes before.
While John was serious about his work and his faith, at times he had a child-like quality about him.  When John got excited, whether it was about biking, climbing, the successes of our students, trying to explain to me the details of making home made beer or roller coasters, you could see the little boy in John and he would smile, get a little giddy and get a little twinkle in his eye.  When John's dad talked about John as a little boy, he described the man we came to know.  Whenever he could he'd be outside and when the family was having dinner, if there was a little light left in the day, John had one foot under him and another foot heading for the door just waiting to be excused so he could go back outside and run around.
My favorite memory of John, earned him a special place in the hearts of my own daughters and a place on my wall in my home.  I think it was his second year. I mentioned that John loved roller coasters.  While that was a passion we both shared, I didn't know it at the time.  Apparently, we both liked to nearly scare ourselves to death and I had passed that passion on to my daughters to the best of my ability.  Well it was September and Great Adventure was getting ready to close for the season.  We had season tickets and me and 2 of my girls who were just tall enough, wanted all summer to ride the fastest and tallest roller coaster in the world, "King Da Ka," but every time we went, either the line was too long or the ride was shut down.  I conspired to take them out of school early one Friday afternoon and give it one more shot.  John came to me that day and said he needed to leave as soon as the bell rang at the end of the day.  I said no problem not asking what the rush was and then John said AI just want to ride "King Da Ka" once more before the season ends.  After I shared my early afternoon plan, we decided to meet at the park and were on the first ride, John riding with my 10 year old Kelsey and me with my 8 year old Ali.  We have a picture of it and I got key rings made with the picture of us together on it.  One for me, Ali and Kelsey and one for John.  In the picture itself, I must explain the glasses.  In John's excitement when he told me that the ride went from 0 to 128 mph in 3.5 seconds, he said it went so fast he recommended wearing glasses.  The only ones I could find in a rush were my kids Harry Potter glasses.  While John and I wore the glasses and my daughters wore none, make no mistake that behind those shades, John Doktorski has that twinkle in his eye.  A twinkle I'll never forget.
Before we say goodbye to John at Collier HS, we should think again. While were gonna miss him, he really isn't leaving us.  John believed in miracles and so I think he's gonna stick around.  I'm sure he'll be at the rock wall and the climbing ropes and the bike path.  He'll be with us in spirit and with his spirit by us there's much of him that we can keep alive.  When I heard the news of his death, I didn't believe it at first and then in church on Saturday night it hit me.  When one of my daughters saw me crying, she started too and asked, "Are you crying for John Doktorski?" I said. "No, I'm not crying for John, he's in heaven.  I'm crying for Betsy and his family . . ."  And me too.  I'm gonna miss him.
It's nice to know that John is in Heaven.  Of that I have no doubt.  It's also nice to know that he left much behind that can help us remember the miracle he was to Collier in the short time we came to know him.
Thanks Betsy for allowing me to speak.  That=s too for modeling what love and loyalty look like in your care for john in the last months of his life.  Thanks too for showing us what courage is. Your ability to tell us how much you've been blessed in the midst of tragedy was an inspiration to us.
But thanks much more for sharing John with us in our family at Collier.  He was a brother to some, an uncle or father to others and a friend to all of us.  Thank You
Eileen DeMarco
My Own Memory of John     
It's interesting how life twists and turns.  I've heard life's journey compared to a giant tapestry on which the Lord is continually creating the picture of our lives. These threads of our lives met and intertwined with those of John and Betsy about a dozen or more years ago...     
We first met John and Betsy at a church we both attended.  Our three daughters were young and roughly the same age as their three daughters.  Both John and my husband, Greg, were teachers.  Our Christian Walk, teaching, and the six daughters between us gave us many things in common. At that time, John and Betsy headed up the Nursing Home Ministry.  We had never before volunteered for ministry work, but through their invitation, we joined in with John and Betsy and several others to spend certain Sunday afternoons at a local nursing home.     
It was indeed a heartwarming experience for me to witness the heartfelt dedication John and Betsy demonstrated toward the elderly people at the nursing home.  They had to patiently and tenderly prompt the residents to attend a service that John led.  This meant rounding up the residents from their various rooms and physically walking or wheeling them to the service.  John carted his equipment back and forth from home each time he held a service.  He played his guitar, sang, and gave a bible lesson that was simple enough not to be too challenging for the seniors.  Then John would ask if anyone wanted to profess their faith in Jesus Christ as their personal Lord and Savior.  Every time we gathered, John would ask that all important question.  And often times the same seniors would profess their faith as if it were the first time they had ever heard John's message.  But John was patient, devoted and good natured.  And those qualities made him a terrific teacher to the elderly. 
John never lost his patience with the senior residents even though some of them couldn't remember having ever seen or heard him before that day.  He would tell them again, as if for the first time, that Jesus was their Lord and Savior, and all they had to do was ask Jesus to come into their hearts in order to spend eternity with HIM in heaven.  So many times we would see tears well up in the eyes of the residents there at the nursing home.  They felt such relief and hope through John's teachings.  So many of them were close to "coming home".  Through John's message, they felt overwhelming peace.     
So this was our family's first introduction to participation in ministry.  And unfailingly, John was a wonderful example of God's love in action.  I can't think of a better example for us and our children then to be introduced to being "of use to the Lord" through John's leadership in that ministry.  I will be forever thankful for God's guidance through John's loving example.     
The tapestry of our lives continued as we eventually moved from New Jersey to North Carolina and then to Florida.  We kept scant touch with John and Betsy with just an e-mail between us here and there.  Life went on as usual.  Then one day we received an e-mail saying they were traveling to Florida in August and could we meet with them.  That reunion between the four of us never took place.  Life for John and Betsy took a "different" twist and turn when they reached Florida.  The tapestry threads coming ever so near...but never quite touching again between the four of us.  At least not until we all join John in the eternity that he spoke about so often in that nursing home those many years ago.  And John, again, being patient, devoted and of good-nature is waiting for us in a place further along in our eternity.  That last twist in the tapestry threads that leads us all home to Our Lord.
Eileen DeMarco